Fat Daddy Special
Fat Daddy Special rose from the depth and passion of Vox/ Axe Phil Maldonado. A powerful mesh of musical styles and taste define him as an instrumental part of the FDS sound. His base is rock n roll but his soul demands the blues. Creating an honest cadre of songs that truly define Rockin Blues…
Enter Slappy White; together as friends and band mates for years, playing side by side was a natural thing, both wanting to play Rockin blues in a way that brings the best out of them. Slappy White - axe/vox is an essential part of the FDS sound.
On the bottom end there is Chief Lee-Bryan on bass. Chief joined FDS in late 2016. In his own words he found himself in a perfect project. Coming from 80's rock band Charlemagne to soul artist like Solomon Burke. Having the mix of rock and blues was a perfect mix and a dream come true.  
Laying down the boom in this incredible ensemble comes the thunder of Drummer Mat Diaz. Mat has been layin down the groove for decades, and is the final magical piece to the FDS rhythm section.
And last but not least our special guest and usual suspect…
From a special place in Phil's past comes Teddy "Zig Zag" Andreadis on b3 & piano. Roaring thru his career with Guns & Roses, Alice Cooper, Slash, Carole King, Billy Bob Thornton and The Boxmasters. His Amazing style brings a true taste of soul in the FDS Sound.
Fat Daddy Special is a band that plays from the heart, bringing in emotion and power that is intoxicating. Having the pleasure of sharing the stage with some of their favorite bands like, Blue Oyster Cult, Mr. Big, Y&T, The Tubes, Foghat, and Jack Russell's Great White, Dokken and Warrant.
FDS is proud to deliver their first artist release Somewhere Down The Road.
Released to the Rock genre on may 20th 2018.
FDS is intent on bringing their Rockin Blues music to new heights across the w
Band Line-Up:
Phil Maldonado – vocals/guitar/harp/b3
Slappy White - guitar
Mat Diaz - drums
Chief Lee Bryan - bass
Special guest Teddy Andreadis-b3/piano.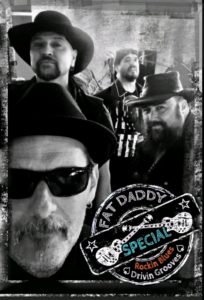 FDS is currently supporting the new album
Somwhere Down The Road
it is in stores now and can be found on iTunes,Spotify, Pandora, Amazon, Cdbaby , Apple music, Soundcloud and many more.
https://fatdaddyspecial.com     https://www.facebook.com/fatdaddyspecial/
http://www.instagram.com/fds_fatdaddyspecial
https://www.reverbnation.com/fatdaddyspecia
https://www.youtube.com/channel/UCaiyKNetlSPZCMm00DBftcw
https://itunes.apple.com/us/album/somewhere-down-the-road/1387720289
https://open.spotify.com/artist/4ux8MGO0d048UurYQwwbUh?si=oMqGl6t1R0KibiRTlPLaog
https://soundcloud.com/user-724536045
https://fatdaddyspecial.hearnow.com/